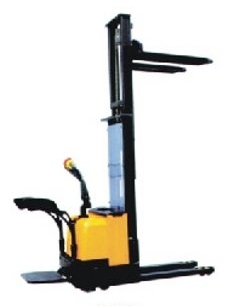 Product Description
Our enterprise, a certified organization is instrumental in presenting customers excellent quality range of Fully Electric Stacker. Used for lifting and transporting high loads from one place to another, this is easy to operate and maintain. It is manufactured by our adept professionals using exceptional quality materials in line with set industrial standards. Further, clients can avail offered Fully Electric Stacker from us in several technical specifications.
Features:
Longer service life

Rugged construction

Less maintenance
AC Motor eliminates replacement of carbon brush.
Multi-function display: battery power, fault code, hour meter and speed level.
Damping cushion for low-noise operation.
Emergency reversing device in the handle provides higher safety for the whole operation.
Auto deceleration function makes operation more safely.
Emergency power disconnect switch.
Low center of gravity ensures the stable operation.
Full free lifting, fit for working in low house. (The lifting height is 3 meters, can enter into a 2-meter height door). Serviceability:
Low battery protection setting prolongs the battery use time.
The electronic components' concentrated design simplify the circuit and makes easy access to assemble, debug and maintain,
Hall element reduces wear components, resulting in increased component life.
| | | | | | |
| --- | --- | --- | --- | --- | --- |
| Model No. | | SB - 21 | SB - 21 | SB - 21 | SB - 21 |
| Drive: electric | | Electric | Electric | Electric | Electric |
| Type of operation :hand , pedestrian, standing, seated, order-picker | | Pedestrian | Pedestrian | Pedestrian | Pedestrian |
| Rated loading capacity Q | Q(kg) | 1250 | 1500 | 1600 | 1500 |
| Load centre distance C | C (mm) | 600 | 600 | 600 | 600 |
| Load distance ,centre of drive axle to fork | x(mm) | 796 | 677 | 711 | 765 |
| Wheelbase | y(mm) | 1278 | 1168 | 1310 | 1514 |
| Weights | | | | | |
| Service weight | kg | 930 | 1120 | 1365 | 1598 |
| Axle loading, laden front/rear | kg | 1040 / 1140 | 1245 / 1375 | 1410 / 1555 | 1375 / 1723 |
| Axle loading,unladen front/rear | kg | 685 / 245 | 826 / 295 | 1010 / 355 | 975 / 623 |
| Wheels, Chassis | | | | | |
| Tyres:solid rubber, uperelastic, pneumatic, polyurethane | | Polyu-rethane | Polyu-rethane | Polyu-rethane | Polyu-rethane |
| Tyre size, front | mm | 252 x 89 | 250 x 78 | 250 x 78 | 230 x 78 |
| Tyre size, rear | mm | 80 x 70 | 80 x 70 | 80 x 70 | 80 x 70 |
| Additional wheels(dimensions) | mm | 150 x 54 | 150 x 54 | 150 x 54 | 124 x 60 |
| Wheels, number front/rear (x=driven wheels) | | 1x +2/ 4 | 1x +2/ 4 | 1x +2/ 4 | 1x +2/ 4 |
| Track width,front | b10 (mm) | 650 | 685 | 880 | 780 |
| Track width,rear | b11(mm) | 390 / 505 | 390 / 515 | 390 / 515 | 570 |
| Basic Dimensions | | | | | |
| Lowered mast height | h1(mm) | 2296 | 1695 | 2098 | 2730 |
| Free lift | h2(mm) | 158 | --- | --- | 2100 |
| Lift height | h3(mm) | 3520 | 3314 | 4514 | 5915 |
| Extended mast height | h4(mm) | 3976 | 3904 | 5100 | 6630 |
| Height of tiller in drive position min./max. | h14(mm) | 940 / 1320 | 985 / 1365 | 965 / 1365 | 864 / 1287 |
| Lowered height | h13(mm) | 81 | 86 | 86 | 85 |
| | | | | | |
| --- | --- | --- | --- | --- | --- |
| Overall length | l1(mm) | 1908 | 1925 | 1915 | 2170 |
| Length to face of forks | l2(mm) | 758 | 775 | 765 | 1020 |
| Overall width | b1(mm) | 890 | 805 | 1050 | 1040 |
| Fork dimension s/e/l | mm | 60/180/1150 | 60/180/1150 | 60/180/1150 | 60/180/1150 |
| Width over forks | b5(mm) | 570 | 570 / 695 | 570 / 695 | 750 |
| Ground clearance, centre of wheelbase | m2(mm) | 26 | 50 | 50 | 25 |
| Aisle width for pallets 800X1200 Crossways | Ast(mm) | 2224 | 2147 | 2271 | 2644 |
| Aisle width for pallets 800X1200 lengthways | Ast(mm) | 2158 | 2123 | 2236 | 2590 |
| Turning radius | Wa(mm) | 1590 | 1465 | 1605 | 1800 |
| Performance | | | | | |
| Travel speed, laden/unladen | km/h | 5.2 / 5.5 | 5.1 / 5.4 | 5.1 / 5.5 | 5 / 5.5 |
| Lift speed, laden/unladen | mm/s | 110 / 170 | 105 / 170 | 113 / 160 | 106 / 170 |
| Lowering speed, laden/unladen | mm/s | 120 / 130 | 100 / 95 | 100 / 95 | 96 / 80 |
| Max.gradient performance, laden/unladen | % | 6/12 | 6/12 | 6/12 | 6/12 |
| Service brake | | Electro-magnetic | Electro-magnetic | Electro-magnetic | Electro-magnetic |
| E-Motor | | | | | |
| Drive motor rating s2 60min | kW | 1.2 | 1.2 | 1.2 | 1.5 |
| Lift motor rating at s3 15% | kW | 2.2 | 3 | 3 | 3 |
| Battery acc. To DIN, no | | 3PZS | 3PZS | 4PZS | 5VBS |
| Battery voltage, nominal capacity | | 24/210 | 24/210 | 24/280 | 24/350 |
Contact Us
A-186, Bileshwar Industrial Estate, Part-I, Opp. GVMM, Odhav-Kathwada Road, Odhav, Ahmedabad, Gujarat, 382415, India
Phone :+918068091359